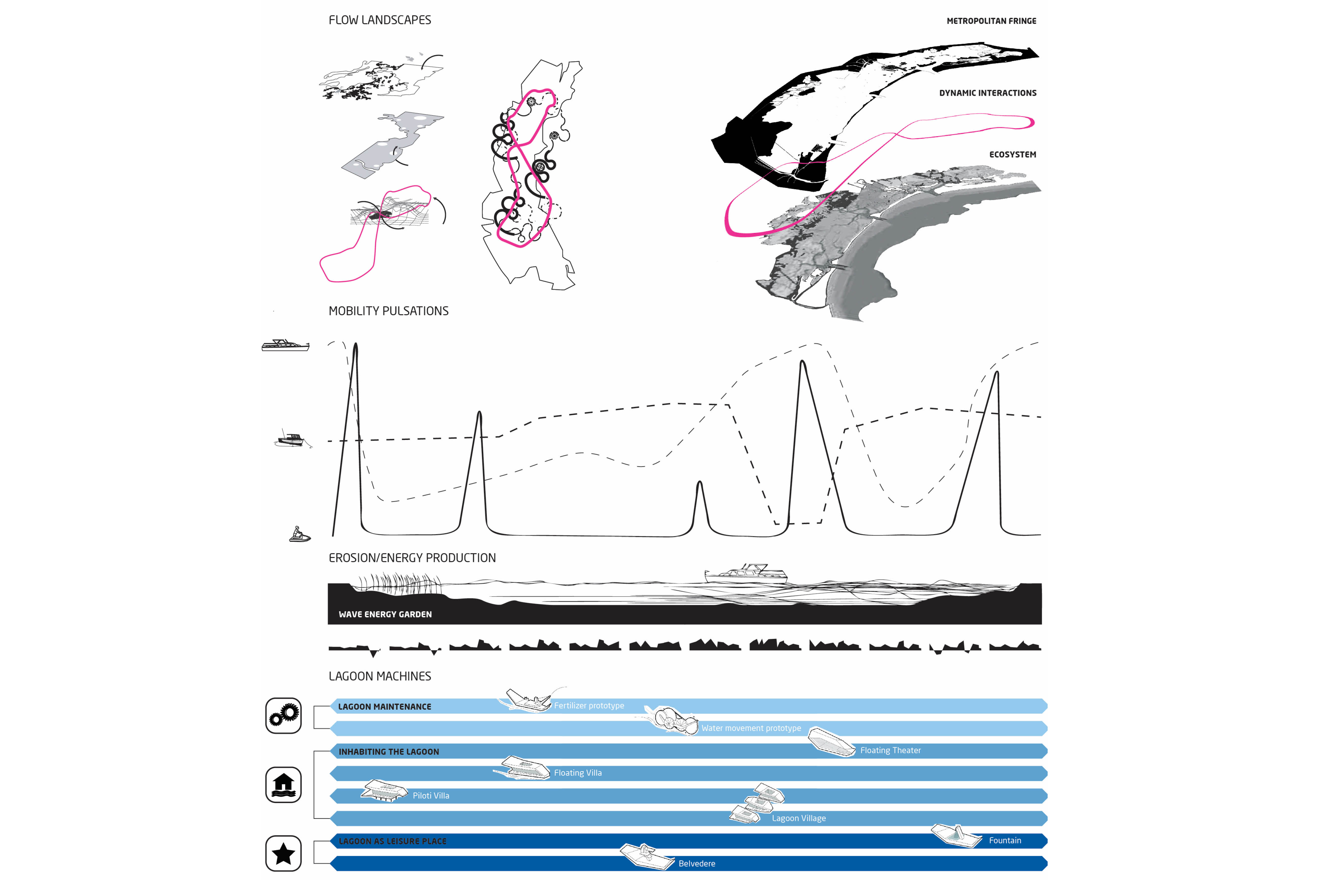 LAGOON PARK, Venice (Italy), 2008
Client : 2G Magazine
Team : TAKTYK
Program : Landscape + Urbanism
Location : Venice (Italy)
Surface Area : N/A
Cost : N/A
Date : Competition 2008

This project is responding a call for proposals for the Gustavo Gili publishing house. It proposes not an image but a narration of a process based upon a synthetic tool: the map as toolbox. The lagoon therefore became an imaginary territory of projects that were drawn, starting from a map that we imagined can be given to visitors to the lagoon. Such a map was merely indicative: the most important part was the index that made the map operative.

The project develops a symbiotic vision between tourism and the ecology of the lagoon. Strategic occupations are proposed across this fragile archipelago of natural ecosystems and urban attractions in order to allow both inhabitants and tourists to share a renewed expression of Venice as water-territory.

Its principal contribution relies upon the introduction of a score entitled "the Venetian Index" and a figure "the Gear" Each piece of the gear characterises a transformational mechanism to be implemented. It acts to encapsulate in a simple analogy the idea of simultaneous and differentiated actions perfomed by the movement of boats.

Our proposals transformed the battles between forces and flows between sea and land, erosion and deposit, local and tourist traffic into a dynamic system built around chain reactions whereby geological, ecological and urban systems are integrated into spectacular forms. For example, the lagoon has a natural tendency to silt up and its water suffers from eutrophication and pollution. Natural sedimentation and artificial erosion are therefore balanced in order to sustain the emerging ecological zone and to create land to inhabit in the lagoon.